The Apex 2 is a lightweight back-assist exosuit that combines the power of science with a focus on comfort, resulting in unparalleled protection and wearability. The suit's assistance reduces muscle fatigue and strain, giving hard-working men and women more energy on the job and a better quality of life away from work.
Modular Fit for All Shapes and Sizes
Takes Off 100+ lbs of Back Strain on Every Lift
Built to Give Users Full Freedom of Movement
Interested in Exo-as-a-Service?
We offer exo-as-a-service for select companies, so reach out if you're interested in learning more about this exclusive service.
Testing Programs
Every exosuit program has to start somewhere. HeroWear offers bulk user kits that include all the hardware you need to fit your workforce. Our Client Services team can provide on-site training and full Field Studies, which include data gathering and analysis – equipping you with the information needed to move beyond pilots.
Get Started
Learn More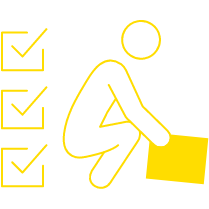 Create a Safer Workplace
Team members can perform physically demanding tasks with reduced strain on their bodies, minimizing discomfort, error-causing fatigue, and the risk of musculoskeletal injuries.
Improve People's Lives
Reduced risk of workplace injuries enables team members to avoid missed work days. The 40% reduction in fatigue means people have the energy left to do what they love.
Reduce Your Workers' Fatigue
Boost your bottom line: Teams who are fresher at the end of the day translate into increased productivity and fewer mistakes. Set yourself apart from competitors while keeping people safer.
Boost Your Company Culture
Showing you care about people by protecting them and improving their quality of life leads to increased employee satisfaction and retention, and can be a powerful recruiting tool. 
Is the Apex 2 Worth the Investment?
The costs of back injuries add up. Use our ROI Calculator to estimate your return on investment using the Apex 2.
"For the first time in a long time, I'm not going to be hurting walking out of this building."