HeroWear's History
We started as a small team at Vanderbilt University who wanted to use science to change people's lives. Our founders believe technology has the power to help millions of men and women, and design exosuits for those who perform demanding movements at work. 
Our team of engineers, scientists, softgoods designers, and implementation specialists – all pioneers in their field – are committed to designing revolutionary exosuits to support workers, boost health, and improve quality of life. "Our exosuits combine the power of science with a focus on comfort, resulting in unparalleled protection and wearability."
Since the launch of the original Apex in 2020, we have worked on the ground helping implement exosuit systems with hundreds of customers, including some of the largest logistics and auto manufacturing companies in the world. In that process, we actively collected feedback and data from exosuit users. 
The three major things we learned from users of the Apex 1: 
The Apex relieves back strain in the workplace just like it's been proven to do in the lab, 

People hurt less and go home feeling better when they wear an Apex, and 

The biggest barriers to adoption of exoskeleton technology have nothing to do with assistance and everything to do with comfort, user experience and implementation. 
So we did a deep dive into all the little design details that make the suit fit great, easy to use, easy to implement at scale, feel comfortable physically and thermally, and excel in the most difficult work environments. In 2021 we began working on the SABER project with the US Army, further driving innovation as we applied our knowledge to relieve back strain during some of the most physical and dynamic work imaginable. As a result, we've made the industry's best exosuit even better. In 2023, the commitment to our mission and our passion for innovation yielded the next generation of comfortable and wearable exosuit technology: the Apex 2.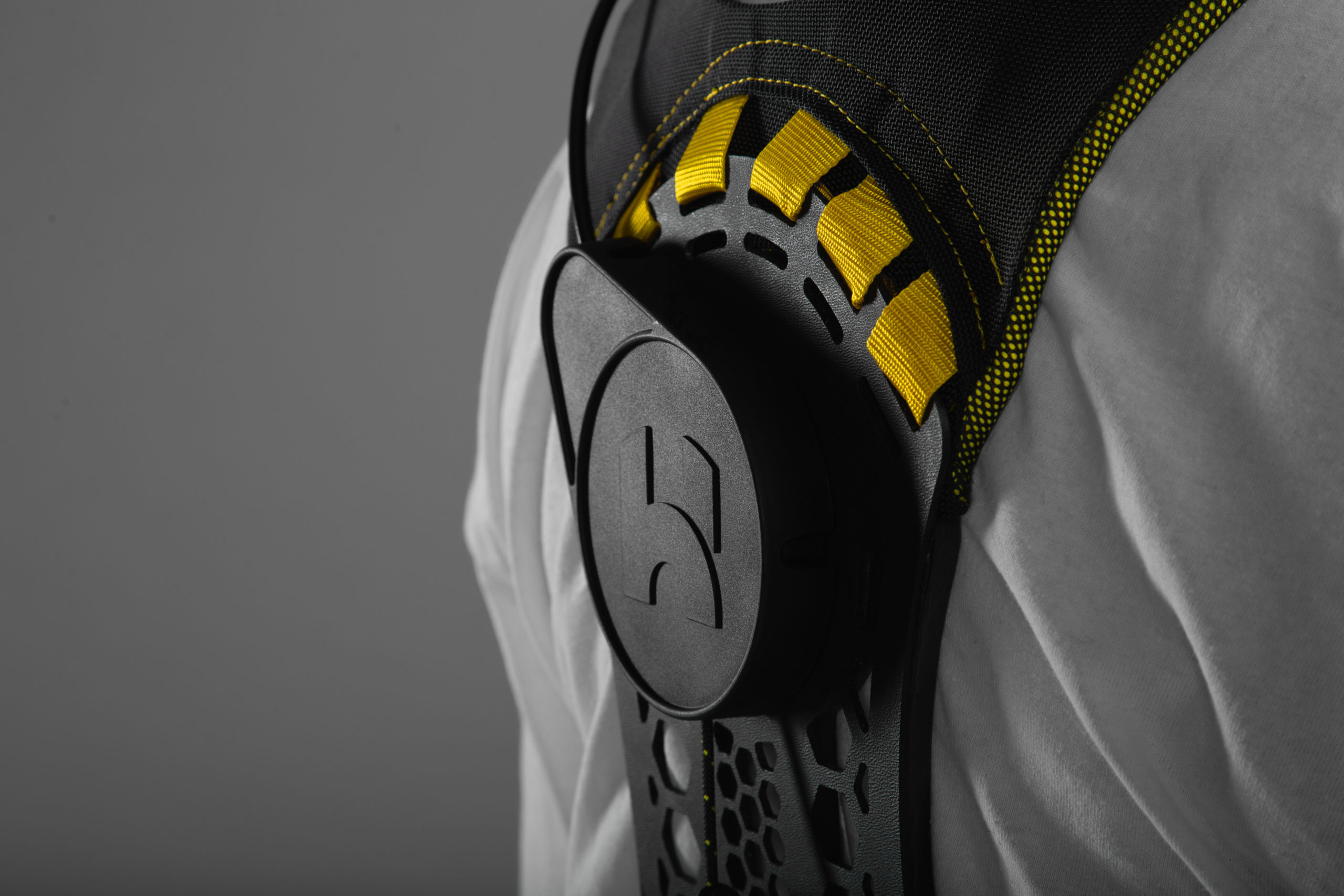 How is the Apex 2 different from the Apex 1?
More Comfort, Less Heat
The Apex 2 improves on the already best-in-class modular design to fit an even broader range of people of all shapes and sizes even more comfortably, and to be easy to care for, maintain, and implement at scale. 

The new design dramatically decreases heat retention by reducing the weight by more than 30%, reducing surface area on the body by more than 50%, and adding patent-pending new breathability features, making the Apex better suited for more environments. 
Durability
Material selection and feature design for the entire suit have been reengineered to ensure that the Apex 2 will hold up to whatever work needs to be done. 

From abrasion-resistant fabrics to engineering-grade polymers and aircraft-grade aluminum, the suit will hold up to the most rigorous situations and years of hard work. 
Ease-of-Use
It is easier to size new users, and donning and doffing is faster and more intuitive. 

A patented mode-switching feature makes it easy for users to activate the assistance when they need support and deactivate the suit when they don't.
What is revolutionary about the Apex and Apex 2?
It's a flexible 3-pound suit that takes 75 pounds of strain off your back every time you lift an object, with no motors or batteries. For some users, it's actually closer to 125 pounds of back relief.

The Apex 2 can reduce muscle fatigue and muscle strain by up to 40% during physically-demanding movements. Depending on the situation, those numbers can actually be even higher. 

The suit provides strength when you need it and gets out of your way when you don't. This is accomplished through a

patent-pending

on/off function, activated by a single, easy-to-use switch that can even be operated through PPE and coveralls.

The Apex 2 fits more users more comfortably than any other exoskeleton, thanks to a modular design that allows custom components for each part of the suit. Other exosuits often take a one-size-fits-most approach, which fails to comfortably fit the wide variety of shapes and sizes of workers around the world.

Some other exosuits use batteries or other power sources, our device is non-powered, relying on an elastic assistance that doesn't need to be recharged each work day. This keeps the suit lighter and able to work as long as the user needs to do their job, while still provide the same or actually more assistance than powered devices.

Our device is backed by a tremendous amount of peer-reviewed science, including multiple studies by 3rd parties replicating results on strain and fatigue reduction, as well as comfort and user acceptance.
What is the SABER Project?
In 2021, we began working with the US Army's Pathfinder program — led by a collaborative team of Soldiers from the 101st Airborne Division at Fort Campbell, Kentucky, and engineers at Vanderbilt University — to create an exosuit that would offload back strain for soldiers. The results was the Soldier Assistive Bionic Exosuit for Resupply, or SABER; a unique, exoskeleton prototype designed to augment lifting capabilities and reduce back strain for sustainment and logistics operations.

SABER allows soldiers to utilize a back-assist exosuit while wearing IOTV body armor and other equipment necessary to protect soldiers in combat and live-fire situations.

SABER is still a prototype product, and not commercial available at this time.

For further reading on SABER
What is exosuit technology?
Exoskeletons are wearable devices that augment, enable, assist, and/or enhance physical activity. Exosuits are a type of exoskeleton made primarily from soft, flexible materials.
Our Apex exosuits complement the human body by supporting and assisting the lower-back muscles primarily involved in repetitive lifting and bending activities.

There are different types of exoskeletons. One distinction is that some use primarily hard materials and some use primarily soft materials. Our devices use primarily soft materials, which is why they are classified as exosuits, a subset of the exoskeleton category.

"Active" exoskeleton devices use motors and batteries (or some other power source) to pull or push on the user to provide assistance. Others, like our exosuits, are classified as "Passive", using elastic bands or springs to provide significant assistance to the user throughout their movement.

More specifically, our devices are classified as "quasi-passive", which means you can turn the assistance on or off as needed.
What is the back-pain crisis?
Musculoskeletal disorders sustained from physical fatigue and strain lead to lost wages and lost productivity, costing businesses billions of dollars and affecting the quality of life for hard-working men and women. 
HeroWear suits are comfortable, wearable tech that supports humans in the workforce.
Our exosuits are designed to keep humans in the workforce by reducing fatigue in the back muscles by 40% (source). We created our exosuits to support the hard-working men and women who spend their days bending and lifting.
Our devices are designed to be the most comfortable and easy to use on the market. We accomplished this through extensive testing over years spent in labs and in the field, and a number of patent-pending design innovations.

HeroWear's

patent-pending

dual-mode (on/off) function means it provides additional strength when you need it and gets out of your way when you don't. Combined with the comfortable, textile-based design, this feature means workers can wear our exosuits all day and have the assistance ready when they need it while not being limited by a bulky frame or hindered by the suit when they don't need it.

Once fitted, our devices can be easily put on or taken off within seconds.
Based on technology built and tested by science.
Researched, developed, and tested at Vanderbilt University, HeroWear's non-powered tech combines robust strength and ease of use.
Comprised of lightweight, high-performance materials that are comfortable for all-day wear while working.

Our products fit the human frame (including men and women of all sizes) comfortably.

Unlike other exoskeletons, HeroWear exosuits allow for a wide variety of postures, maximizing safety and strength when you need it without limiting your range of motion.

Testing shows that HeroWear's Apex exosuit significantly reduces lower-back muscle exertion and fatigue.

Women make up a growing part of the industrial workforce. At HeroWear they are not an afterthought! From the beginning of product development, we've been focused on designing for both men and women.

HeroWear exosuits come complete with full training and support for every purchase, ensuring that each device is properly fitted for the wearer.